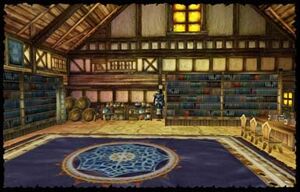 Housing System
In Runes of Magic, your characters can own a house that you are able to customize from the very beginning of the game. Your house will be shared by your characters and you are also be able to invite other people to your house by giving them your House Number and your Secondary Password. That feature is meant to encourage social interaction and a Popularity Ranking System is believed to be a future feature.
Guilds are also able to own a guild house.
You can personalize your house with decorative furniture, treasure chests, mannequins, crafting tools, housekeepers, bonus experience, and more.
To enter your house, you will need to talk to a House Fairy in some towns. To get out of it, you need to talk to the House Maid inside your house.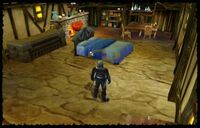 My home is my castle: expansion
In the near future it will become possible to expand your home. More floors, bigger rooms, attics, closets, as with all the features of Runes of Magic, the possibilities are nearly endless.
Home Security
Right now, the only security system for houses is the secondary password tied to your account. It is believed that there will be other features, however, such as "flood control", which is essentially setting a max number of visits or a max number of players inside your house.
Players wishing to enter your house will need the house's number and your secondary password. They need the two of them to enter.
Furniture Category
With housing, the most important is of course, a good layout of the room.
In the game, there will be hundreds of different types, styles and grades of furniture and utensils for purchase. Such furniture can be broadly divided into the following categories: General furniture and storage furniture.
General furniture can grant bonuses to talent points and experience.
Storage furniture will give the player more storage or other convenience. Chests, mannequins and crafting tools are all parts of this category.
1. General furniture
| Wall Decoration | to be edited |
| --- | --- |
| Table | Round-table, conference tables, dining tables, coffee table, etc. |
| Chair | Sofas, Chairs, etc. |
| Bed | Single bed, double bed, love beds, etc. |
| Cabinets | Bookcases, wardrobe, counters, etc. |
| Display | Small works of art, or wall decorations, etc. |
| Floor | Wood, carpets, tiles, etc. |
2. Room furniture category
| Boxes | Storage box and chests, the higher the level of the item can be the more storage space it has. |
| --- | --- |
| Racks | Mannequins to hold a complete set of equipment. You can easily swap between two sets of equipement with these. |
| Weapons | Weapon displays that can hold one of your weapons on a wall. Can be coupled with a shield. |
| Dun | Same as the weapons rack, but for a shield. |
| Production equipment | You can set tools in your house, such as cooking tools and the likes. |
| Booty | Those are believed to be trophies from monsters that you can show in your house. |